There was late drama in Freetown yesterday as the Benin national team refused to play the Africa Nations Cup decider with Sierra Leone after five of their first-team players were […]
ACTION NEWS
Can the present Leone Stars players enter Sierra Leone's pantheon of heroes today ?
March 30, 2021 Publisher and Chief Executive Officer KABS KANU 0
People have long complained that the present crop of Leone Stars players are not being given the credit they deserve. Whenever Sierra Leoneans, with a tinge of nostalgia, [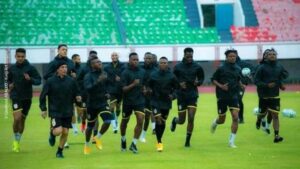 If these Leone Stars do beat Benin today, and march gloriously into the Africa Nations Cup, they would have scaled heights that the Kama Dumbuyas, Christian Coles and Ishmael Dyfans never climbed and will certainly enter Sierra Leone's soccer folklore. Even a century after today, soccer lovers would glean from the history books the magic of the present Leone Stars that brought pride to our nation.
Who will ever forget great names of the squad listed below if Leone Stars do what 7 million Sierra Leoneans at home and at least two million in the diaspora pray for them to accomplish at the Siaka Stevens Stadium in Freetown today?
There is no doubt that the present crop of Leone Stars deserve the right to be in Sierra Leone's Hall of soccer fame if we consider their glorious exploits abroad with the teams with which they ply their trade .But because they have not established any measure of consistency, drawing or losing where they deserve to win, there have been some disenchantment among soccer fans. But they have the opportunity to correct this deficiency by beating Benin to be among qualifiers of the African football extravaganza. Take it all around, Leone Stars have the talents and capacity to prevail.
Looking at the squad, you see talented players who have made indelible impressions abroad with their teams. Players like Kei Kamara, Rodney Strasser , Mohamed Buya Turay, Mohamed Medo Kamara, Kwame Quee, Alhaji Kamara , Ibrahim Zingaley Kamara, Umaru Bangura etc. have all been household names in the countries where they play professional football. They do not only have the prerequisite talents but also the big-match experiences which should put them in good stead to perform to expectation in today's titanic soccer battle.
All Leone Stars need to do is to utilize their scoring chances which they failed to do against Liberia, which cost them elimination from the World Cup and in the two matches against Lesotho , which they were supposed to win. Leone Stars dominate but they fail to conjure that magical moment that turned the likes of King Kama, Boye Johnson, Ishmael Dyfan, Sentu Johnson, christian Cole etc into legends, whose fame is being sung by soccer fans who saw them turn impossible situations into victories.
This is what is expected of Leone Stars today. They must not only spark and dominate, but must turn dominance into scoring masterclass. They cannot afford to fritter away scoring opportunities as if there is nothing at stake.
Another weakness that Leone Stars must avoid today is conceding late goals through defensive errors as they did against Liberia and Lesotho during that first leg in Freetown when they could have won 1-0 but allowed Lesotho to equalize in the dying minutes.
Everybody will be rooting for them today because national pride, national honor and the joy of qualification for the Africa Nations Cup are at stake. Leone Stars cannot afford to let down the nation .
Leone Stars must enter the pantheon of Sierra Leone's soccer heroes today, will or woe.
BEST OF LUCK, LEONE STARS.
SQUAD:
Goalkeepers: Mohamed N. Kamara (E.E-Lions), Unisa Conteh (FC Johansen), Abdul Bundu (Bo Rangers)
Defenders: Umaro Bangura (Xamax FC), Yeami Dunia (E.E-Lions), Kevin Wright (Orebo SK), Abubakarr Samura (FC Kallon), Lamin Conteh, David Simbo (Unattached)
Midfielders: John Kamara (Kesla FC), Rodney Strasser (Turun Palloseura), Mohamed Medo Kamara (Unatached), Prince Barrie (Bo Rangers), Alusine Koroma (Real Balompedica), Saidu Fofanah (FC Kallon), Alhassan Koroma (Real Balompedica), Masalakie Bangura (E.E-Lions), Alpha Kamara, Abu Dumbuya
Forwards: Kei Kamara (Minnesota United FC), Kwame Quee (Vikingur Reykjavik), Mohamed Buya Turay (Hebei China Fortune FC), Alhaji Kamara (Randers FC), Christian Moses (FC Linkoping), George Davis (SKN Polten)